A GLIMPSE OF AN ICONIC LUMINARY:
NASRA WAZIR ALI (S.I.)
A LIVING LEGEND:
KANIZ WAJID KHAN
Established in 1949 and registered in 1950 under the Trust Act of 1882, Education Trust Nasra School (ETNS) started from a mere two rooms in Nasra Wazir Ali's own home. Borne in the post-partition era of early 1949, out of the sheer necessity to accommodate for the lack of educational facilities in the neighborhood, ETNS has impressively grown to encompass five large purpose-built campuses, each one carrying out our late founder's humanitarian mission: To provide low-cost, high-quality education to the children of underserved communities, in an effort to bridge the education and gender gaps prevalent in Pakistan.
NASRA WAZIR ALI (S.I.)
LATE FOUNDER OF ETNS
​
PIONEER EDUCATIONALIST OF PAKISTAN
HUMANITARIAN
RECIPIENT OF SITARA-E-IMTIAZ AWARD
1922 - 2015
CLICK ICON TO VIEW
NASRA SCHOOL'S TIMELINE
Born on May 28, 1922, Nasra Wazir Ali was the youngest daughter of late Malik Maula Buksh, a landlord of Goorali Village in Gujrat District, Punjab. A self-educated man, he built a school for the village which Nasra herself attended during her early primary years, despite being the only female student in a class of thirty. She later attended Lady McLagan High School in Lahore as a full-time boarder from class 3 until matriculation.
​
A bright student, Nasra graduated from Lahore College for Women with a Bachelors degree in English Literature, attaining Honors. Her marriage to Malik Wazir Ali, a prominent member of the Indian Civil Service, lent her the opportunity to travel extensively and reside in various countries around the world, inculcating in her a sense of worldly wisdom, broadening her horizons and honing her foresight. Thus, when the time came to contribute to the social development of a newly formed, desolate, post-partition Pakistan dependent upon the services of educated volunteers, Nasra Wazir Ali, in a display of true leadership, rose to the challenge, facing seemingly insurmountable adversity along the way with grace, courage and perseverance. Her humble offer to teach the neighborhood children, along with her own daughter Shahnaz, out of her family home in Karachi was met with such profound gratitude that Nasra magnanimously allocated a portion of her home to the cause. Thus began Nasra School, a small yet rapidly growing class for preprimary school children, out of the living room of a government-owned bungalow on Bunder Road, in Feb. 1949. The following year saw the official registration of the Education Trust Nasra School (ETNS), as not-for-profit organization established to provide high-quality, English-medium education to children belonging to lower income households- a sector often marginalized and dismissed by negligent society.
CONTINUE READING NASRA WAZIR ALI BIO
---
As her noble cause gained momentum, several more rooms of Nasra Wazir Ali's home were converted into classrooms, while the family shifted into the garage. Lack of sufficient acreage, combined with a government-imposed ban on scholastic teaching from her property, coerced her to seek adequately-sized real estate in the depths of the congested city in which to house the school. After relocating to a small rental property at the back of Empress Market (the current locale of BMB School) in 1955 for a period of 2 years, Nasra School finally found its first permanent campus at 55 Depot Lines, Saddar in 1957. Over the next 2 decades, thousands of students flooded its classrooms, the curriculum evolved to include matric education, new buildings were added and teachers were trained in Nasra Wazir Ali's shadow, emulating her concern and compassion for student welfare, mirroring her unyielding resolve to give a ray of hope to the forgotten ones. By 2007, ETNS had grown to encompass 5 spacious campuses (Saddar, Malir, Korangi, Super Highway and North Karachi), each replete with modern facilites, producing several hundred thousand capable and conscientious graduates of a progressive mindset- assets to a nation deeply entrenched in ignorance, misogyny and class distinction. A dedicated educationist to her core, Nasra Wazir Ali was awarded the prestigious Sitara-e-Imtiaz accolade in 2012 for her lifelong contributions to Pakistan's educational sector. Though she passed away in 2015, her invaluable teachings, empathy for humanity, and desire to effectuate the transformation of society (particularly via the education of young girls) constitute the quintessence of her immortal spirit, a movement lingering on as the legacy of Nasra School, poised to transcend the test of time.
---
---
ZAFRULLAH KHAN MALIK
FOUNDER TRUSTEE ETNS
ARCHITECT OF ETNS TRUST DEED
​
WWII VETERAN,
MUSLIM LEAGUE ACTIVIST
1919 - 1992
Born in Gorali on March 23, 1919, 3 miles from Gujrat on the River Chennab, Zafrullah Khan Malik was Nasra Wazir Ali's older brother. After completing his elementary education in Gujrat, he acquired a BA degree from Government College, Lahore. An avid learner with a penchant for law and justice, he proceeded earn his LLB in 1941 from Law College, Lahore. Not fully content with his educational endeavors, he served as an Army Officer in the Second World War for two years. Inspired by The Quaid, he became an activist, touring all over Punjab with Muslim League workers spreading the message and hope for an Independent State. He was a dedicated worker and student leader of the Muslim Students Federation which played a monumental role in the struggle for Pakistan before 1947. He was also a soldier of the Independence Movement under the leadership of Quaid-e-Azam.
CONTINUE READING ZAFRULLAH KHAN MALIK BIO
---
A simple man of religion, he shared many of his sister's humanitarian values. Thus when the opportunity arose to serve the needy, Zafrullah Khan Malik supported the ETNS cause. With his knowledge of law, he composed the deed of the ETNS Trust himself, and officially registered the not-for-profit organization in 1950. He passed away on July 8, 1992.
---
---
KANIZ WAJID KHAN
FORMER CHAIRPERSON OF BOARD
FORMER ETNS TRUSTEE
​
PIONEER SOCIAL WORKER OF PAKISTAN
CHIEF WELFARE OFFICER, GOVERNMENT
1920 - PRESENT
Born on June 24th, 1920 in Kotwara, North India, KanIz Sakina Wajid Khan faced several grave adversities and losses during her early childhood including the death of her father and mother at ages 3 and 5 respectively, and the death of her sister at age 6. As orphans of a tender age, she and her brother, Syed Sajid Hussain became wards of the Indian State and were raised at an English boarding establishment, Camille House in Mussorie, under the supervision of caretaker, Aunt Lily.
​
Marriage at age 17 to Dr. Sahibzada Wajid Khan, a civil servant occupying the post of Secretary to the Chamber of Princes, opened up an exciting and purpose-driven new chapter of young Kaniz's life. Having access to the elite political circle of India, she frequently socialized with influential government officials including viceroys, legislatures and ministers.
CONTINUE READING KANIZ WAJID KHAN BIO
---
Her association with well-known political and social worker, Amna Asif Ali, led to a lifelong affinity for social work and dedication to humanitarian causes, an inherent attribute which proved crucial to a newly-formed, post-partition Pakistan, in dire need of educated volunteers and activists to help establish various parts of its primitive social system. In Sept. 1959, Kaniz Wajid travelled to Pittsburg, USA in order to observe and learn the best ways to implement progress in the sorely lacking educational and health sectors of Pakistan. Her contributions to several NGOs along with the establishment of rudimentary schools to improve literacy rates of the impoverished, and hygiene-promoting childcare initiatives in war-ravaged, desolate, rural villages are well documented. Believing in the power of education to transform lives and shape a country, she eventually joined the cause of Education Trust Nasra School (formerly known as Froebel Education Society), and became instrumental in its growth and expansion across the city of Karachi. While Nasra Wazir Ali dealt with the academic and administrative concerns on a daily basis, Kaniz Wajid scoured the city for strategically placed locations with sufficient acreage and gathered the required capital to construct four additional ETNS campuses. The Korangi campus was built under her supervision in 1992, followed by two more campuses housed in densely-populated, low-income areas within a span of two decades. United by the mission of providing quality education to the deserving but disenfranchised children of society, both ladies forged a lifelong friendship, aligning forces and priorities to overcome many obstacles in their arduous journey with dignified perseverance, wisdom and unfaltering commitment. Kaniz Wajid Khan actively held the title of Chairperson of the Board from 1976-1980, and Trustee from 1980 onwards. She later served as an advisor to the current Board of ETNS Trustees and recently moved to her family home after residing at the ETNS Korangi Campus for several years. Till today, she enjoys attending school events and festivities, surrounded by faculty, friends and students, honoring the memory and life accomplishments of her beloved friend, Nasra Wazir Ali (S.I.). To see more accomplishments of Kaniz Wajid Khan's early career as a pioneer social worker of Pakistan, please watch our typography video below.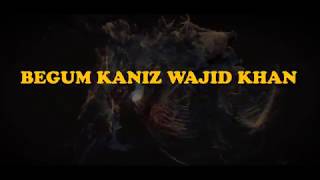 ---
---
In 1949, Nasra School was established as Froebel School, inspired by the German educationist, Frederich Froebel, originator of the kindergarten system. It was officially changed to Nasra School in 1965.